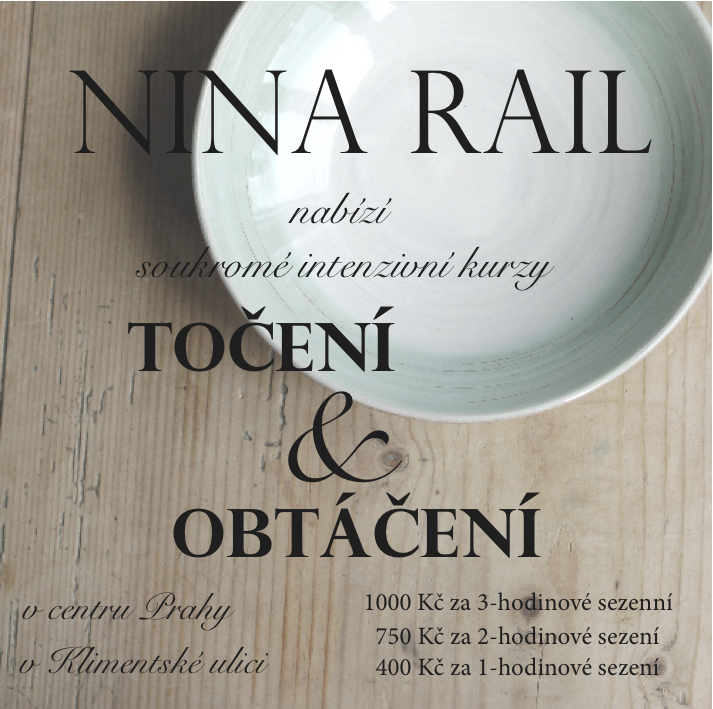 Intenzivní lekce pro začátečníky se zaměřují na točení na hrnčířském kruhu a navazující techniky.
Lekce probíhají v Klimentské ulici v Praze 1 (poblíž náměstíRepubliky).
Můžete si vybrat z 1-hodinové lekce (400 Kč), 2-hodinové lekce (750 Kč) a výjimečně i 3-hodinové lekce (1000 Kč). Během dvou hodin stačíte udělat dost práce abyste v učení pokročili a přitom se úplně nevyčerpali, dvouhodinové lekce jsou nejoblíbenější.
Počet lekcí je pouze na žákovi. Každý postupuje trochu jiným tempem a já každého žáka vedu tím jeho tak daleko jak sám chce. V dílně je během lekce vždy jen jeden žák a má moji naprostou pozornost, bez žádného rozptylování.
Na úvodní lekci předvedu centrování a točení nádoby a Váš první úkol bude vycentrování hroudy hlíny (už v první lekci). Po jeho zvládnutí pokročíme k vytahování a tvarování nádoby. Pro představu – je třeba asi tak 4 až 5 sezení aby nový točíř získal jakous takous jistotu.
Žádné zálohy nepožaduji, platba za každou lekci je buď hotově na místě nebo bankovním převodem. Kdykoli můžete také své točířské vzdělávání ukončit nebo přerušit, na každou další lekci se domlouváme na konci té předchozí, alespoň přibližně.
Obvykle se s žáky vídám jednou týdně, konkrétní hodiny nechávám ráda flexibilní. Je možné docházet dopoledne, odpoledne nebo v podvečer, s každým se domluvím podle jeho rytmu a vytížení.
Jestli se chcete naučit vytočit vlastní nádobí, napište mi prosím na adresu: nina@ninarail.com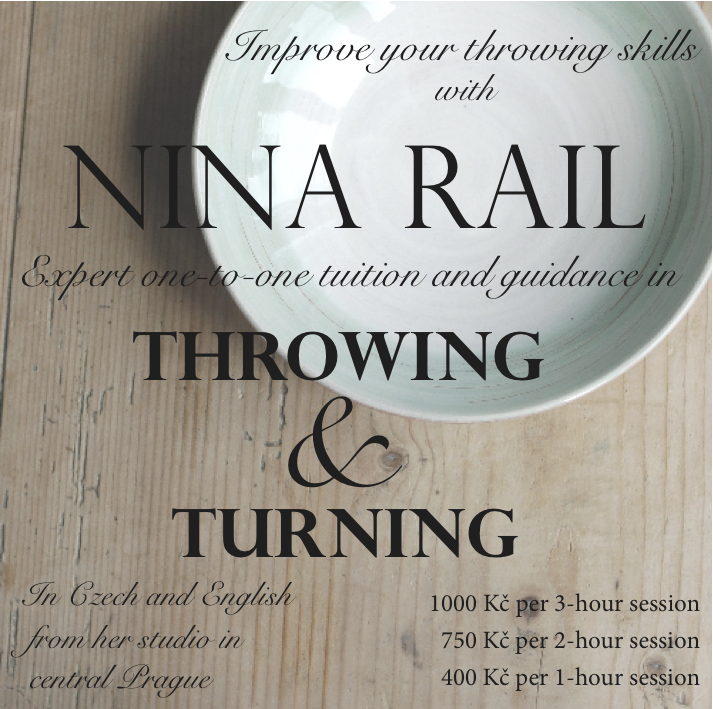 Ceramic courses for beginners in Prague.
My intensive one-to-one classes focus on throwing on the pottery wheel and related techniques like turning and pulling a handle.
My studio is located on Klimentská street in Prague 1 (near náměstí Republiky).
You can choose from an 1-our lesson (400 Kč), a 2-hour lesson (750 Kč) and a 3-hour lesson (1000 Kč). The 2-hour lesson gives you enough time to get a good amount of work done without exhausting yourself and it is the most popular class.
The number of meetings (lessons) is solely up to you. Some people are faster, some slower and I offer to be there to lead you through your learning as well as I can. During my class I am 100% focused on my student, it is always only one student and myself in the studio, no distractions.
In the initial class I demonstrate the centering and throwing process and your first task will be centering a lump of clay on the wheel (already in the first lesson). Once you master that, we can move forward towards pulling the shape of the vessel. It takes approximately 4-5 lessons to start feeling comfortable at the wheel, just to give you some time frame.
I don't ask for any deposits or any other commitments. Payments can be cash on spot or bank transfers, as you prefer. And you can of course end your classes at any time.
I normally try to meet each of my students once a week but I like to keep the hours flexible. Mornings, afternoons and early evenings are all possible and individually arranged.
If you would like to start learning how to throw a vessel, please contact me via email at nina@ninarail.com.